Virtual Pottery Night - Fridays & Saturdays OR Book A Private Session
£

30.00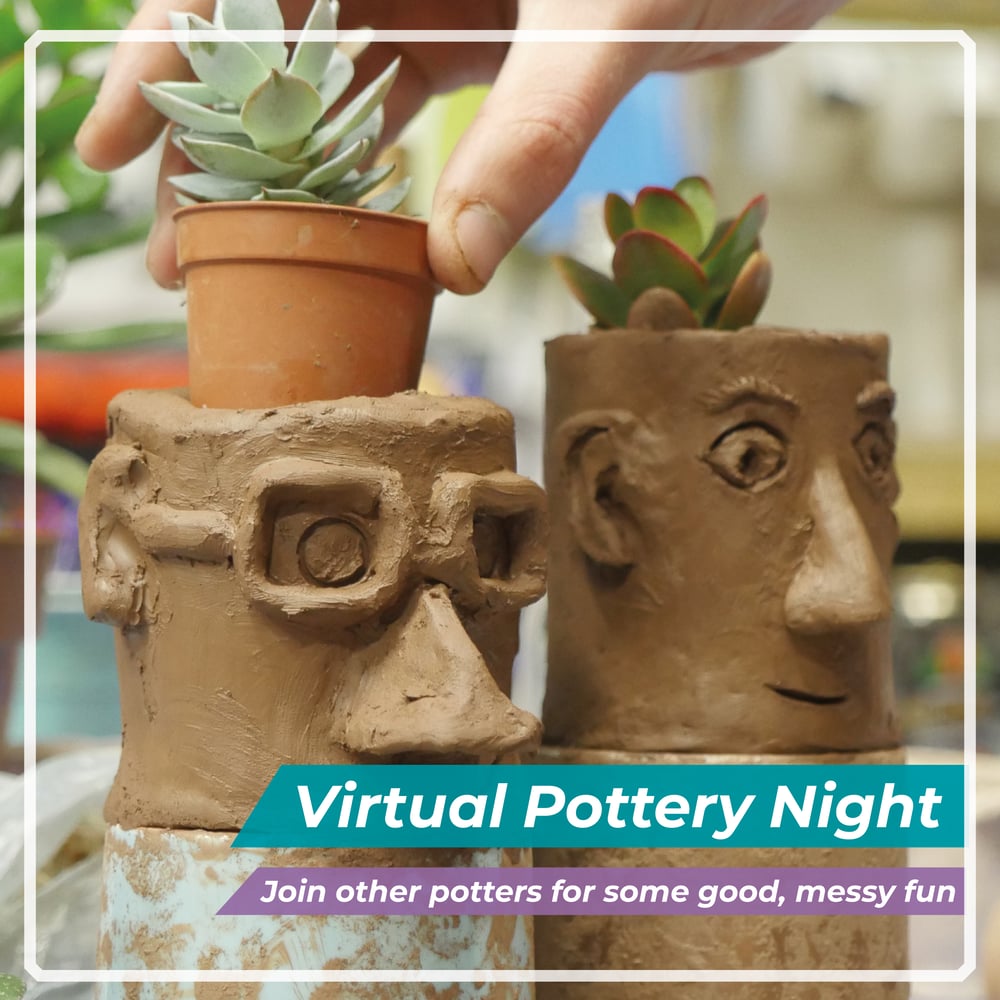 Join the Pot Heads for an evening of good, messy fun and potter away those lockdown blues! Try something new, unwind your mind and learn to create your very own plant pot pal in a fun and relaxing online workshop like no other...
FRIDAY & SATURDAY EVENINGS, 7 TIL 9 PM
(only dates that are still available will be shown in the drop-down menu)
***
OR why not book a private session for you and yours? Get in touch at potheads@tashabee.com to enquire about prices and availability.
If you want to potter in your own time following a video tutorial instead, check out The Pot Heads Postal Pottery Packages
***
With yet another Lockdown upon us, I have decided to host a series of online workshops so we can come together and enjoy creating and connecting from the safety and comfort of our homes. If you're bored of quizzes and have completed Netflix, don't worry - we got you!
***
How Does It Work?
1. Book Your Ticket (must be at least one week in advance)
2. Receive a Postal Pottery Package with everything you need, including...
Terracotta Air-Dry Clay
Succulent or Cactus 'Hairstyle'
Sculpting Tools
Coloured Paper & Pens
Paintbrushes
A3 'Hall Of Fame' Poster (for inspiration!)
LTD EDITION Pot Heads Stickers
Aftercare Guide
Link To Zoom Session
3. Pour yourself a glass of your favourite tipple and log on to join Tasha as she guides you step-by-step to create your Pot Heads! Join with friends in different households, meet likeminded souls or simply enjoy some 'me time' - all ages and abilities are welcome and first time potters are encouraged!
***
Spaces are limited to 16 per session and will be hosted via Zoom.
You will need to book at least 7 days before the session to allow time for your package to arrive.
Tickets are £30 per potter + postage
(or for Bristol collections please just get in touch)
OR
Get a package for x2 potters (same household) for £50 + postage by ordering 2 together and using code DOUBLETROUBLE
***
The Pot Heads believe in a healthy dose of creative silliness, and that it is needed now more than ever in difficult times like these which can feel far too serious!
ENQUIRE ABOUT BOOKING A PRIVATE POTTERY PARTY
Want to host your own private Pot Heads Pottery Night for you and your friends and family? Get in touch with Tasha at potheads@tashabee.com or go HERE to find out about team-building sessions for work teams.
Share