Craftmas Creations - Make Your Own Ceramic Christmas Characters
£

35.00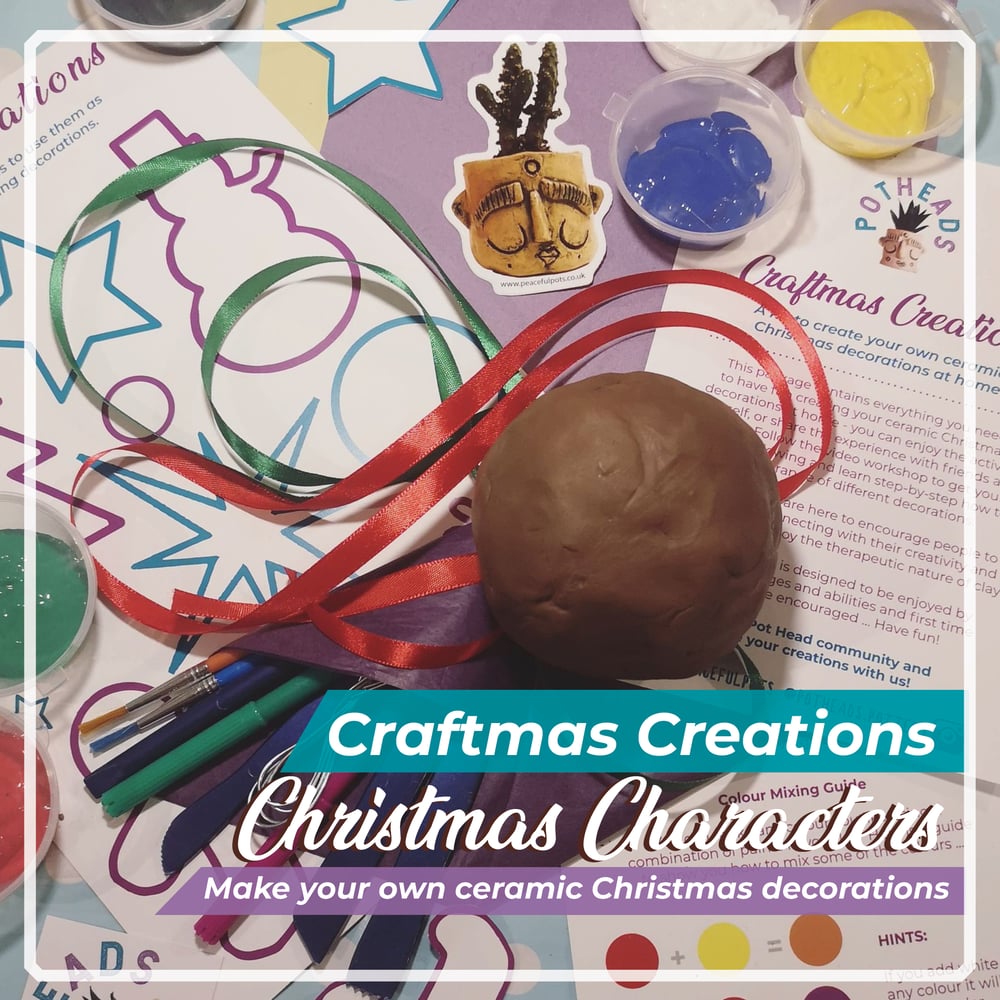 The Pot Heads Craftmas Kit is here!
Since we have landed back in lockdown with Christmas just around the corner, I have decided to create these extra special kits containing everything needed to create your own ceramic Christmas decorations at home, Pot Head style! There are a very limited amount of these special kits available and they are designed to have enough materials for 2 people to enjoy together.
Enjoy the playful and therapeutic nature of clay and create some ceramic Christmas characters to decorate your home this year, to hang on the tree with glee and treasure for years to come :) The kit is jam packed with goodies, and there is a fun, easy-to-follow video workshop to guide you in creating a variety of different decorations.
Designed to be fun for all ages and abilities, bring the family together to create your Christmas crafts, or connect with friends online to create and get in to the festive spirit together, even if you are apart!
In the video workshop series, you will have the option to learn to make simple hanging decorations (using a sheet of cut-out templates) festive bunting, or create a Christmas Pot Head character in Bauble form. Tasha will guide you step-by-step and first time potters are always encouraged :)
***
KIT CONTAINS:
Terracotta Air-Drying Clay (sourced in the UK!)
Pottery Tools & Paintbrushes
Pens & Paper (for designing your characters following a fun activity in the video!)
Set Of Acrylic Paints (Red, Blue, Yellow, Green, White & Black)
Colour Mixing Guide (so you mix any colour you like)
Sheet of Cut-Out Shapes
Ribbon (4 different colours)
Craft Wire (for hanging your baubles)
Instruction Sheet & Pot Head Stickers
Access To Video Workshop Series
***
The Pot Heads are all about encouraging people to embrace the sensory experience of playing with clay. Focussing on our hands and enjoying the mindful process of sculpting and forming is a wonderful way of relaxing the mind. I hope that these packages are enjoyed and can't wait to see what you make!
Please don't hesitate to get in touch if you have any questions:
potheads@tashabee.com
Share